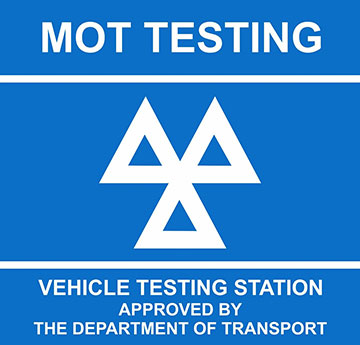 The UK has over 20,000 approved MOT testing stations working to keep cars on the road safely, all of which must display the blue and white 'three triangles' logo (shown right) to show they are a registered and approved testing station and approved to work on your vehicle.
It is an offence to drive an unroadworthy vehicle on the public highway except during the trip to/from a pre-arranged MOT test or to/from a place of repair where any faults are to be repaired. A valid MOT certificate is an indication that the vehicle is safe to use, and your insurance may be invalid if you use a car that doesn't have one.
What does the MOT Test cover?
A full MOT test takes around thirty minutes to an hour and covers many important aspects of your vehicle. After the test, you will either receive a Pass or Fail certificate. There may also be a list of Advisory points containing details of items that need attention in the near future. For a breakdown of what is checked during your MOT, click here.
What does an MOT cost?
The cost of an MOT varies depending on the class of vehicle your are having tested. In addition, individual testing stations may offer discounts on the official testing fee. For a full list of maximum MOT test costs, click here.
More MOT Questions?
Visit the MOT Q&A page for answers to the most popular questions, or contact us to ask a question.